The following involves potentially dangerous tinkering with computer hardware. Don't try it unless you're willing to take the risk of accidentally bricking your computer or killing various components. You are responsible for what you choose to do.
So, the Mid-2010 MacBook Pro 7,1, originally sold as taking a maximum of two 4 GB PC3-8500 (1067MHz) sticks, is actually capable of taking two 8 GB PC3-8500 (1067MHz) sticks to give a total of 16 GB dual channel memory (assuming you are running the latest "cat" and have applied whatever updates came out of Cupertino).
Now, try finding an 8 GB PC3-8500 stick if you want 16 GB on a MacBook Pro 7,1.
Don't even look at the Apple store where they have 2x4GB modules for a whopping $200. But, regardless of where you look, you are not going to find many 8 GB PC3-8500 memory modules.
Other World Computing advertised them for about $120 a pair last time I checked — prices may have changed since then.
What to do if you have a chance to pick up a pair of Patriot's Mac Series 8GB 1333 MHz DDR3 modules at almost half the price? Well, normal people probably go ahead and buy the memory with the correct specs. Me, well, I wanted to figure out if I could get that memory to work on my MacBook Pro.
First, I did verify that with both 1333 MHz sticks, my MacBook Pro would not boot (although, it did fine in single user mode). Then, I did verify that each 1333 MHz stick worked fine in the presence of a 1067 MHz stick in the other slot. Therefore, I only needed to get one of the sticks to pretend that it was PC3-8500.
As far as I can tell, there are exactly two other blog posts on this topic: "How to Install 2x4GB DDR3 1333Mhz in Macbook Pro 13 (Mid 2010) and make it work!" and "programmatically downclock speed of SO-DIMM DDR (Macbook, EFI). At first, the latter got me excited because I thought it would lead me to some hard core docs.
No, they both point to Thaiphoon Burner, a shareware Windows application that reprograms the EEPROM on a memory stick to change the timings. The author even provides MacBook Pro tip showing what to change to get 1333 MHz sticks to work with my MacBook Pro.
After reading that, I still made a half-hearted attempt to tinker with one of the programs included with i2c-tools, but given that I only wanted to run this program exactly once, to change the timing one of the memory modules, I didn't see much room for trial and error. So, I decided to take a chance on Thaiphoon Burner. I purchased a license, downloaded the program on a crappy little netbook running on 64 bit Windows 7. I had already replaced the RAM in the single slot on that netbook with one of the 8 GB Patriot modules. I fired up the program, saved a copy of the dump, and then followed the author's directions. No sparks flew, no firecrackers exploded. Just got confirmation that the values had been written.
I shut down the netbook, removed the memory module, put both 8 GB modules in the MacBook Pro, and pressed the power button. After a slightly longer than usual initial boot, I was rewarded with the login screen. So I did. Now, "About this Mac" shows: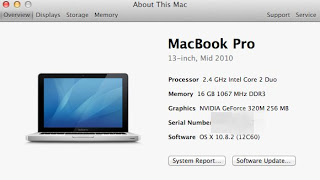 And, system information gives me: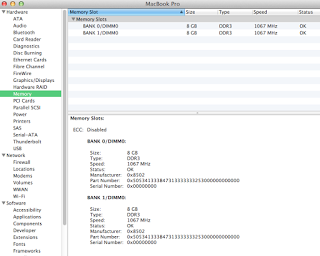 I don't even know which module is the one whose EEPROM I flashed.
To be honest, I had some doubts about the wisdom of running a shareware program by an unknown Belarusian computer programmer, but the fact that I could run it on a system that was just sitting in the closet alleviated my nervousness. In the end, the program did what the author claimed it would do. Thank you, Vitaliy. Live long and prosper.
PS:
What a difference 15 months makes: This October 2011 article from CNET says:
While this upgrade is possible, do keep in mind that it will not be cheap. … The 16GB upgrades are not as common for laptop systems, so expect to pay around $600 if you want 16GB of RAM in a laptop system.